This week sees me back in the UK for a few days. I had to go to London on Monday to renew my visa at the US consulate. I flew into London on Sunday, and made my way to Grosvenor Square on Monday morning feeling the worse for wear from jetlag. I must say that the US consulate in London really is the kitschiest building ever... it has a giant golden eagle on the roof! It made me a chuckle as I queued outside for what seemed like forever before I was finally granted admission. I won't bother describing the process because it is boring, stressful, uncomfortable and unpleasant all at the same time. Needless to say, my application was accepted and I'll be back in Boston sometime next week, the cats have not been made orphans. Having got the unpleasant purpose of the trip out of the way, I can now enjoy some quality time in the UK visiting my family and recharging my Brit-batteries.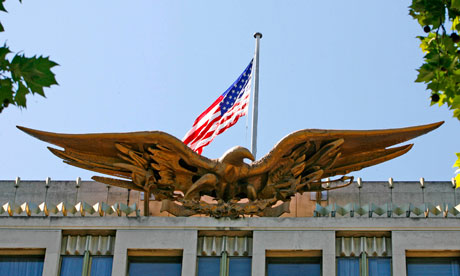 Now, the real idea behind this post was to talk about one of my long-term obsessions: collecting vintage knitting patterns. I got my start about 12 years ago when I went on a charity shop foraging expedition on the eastern end of the Central line. I stumbled across a huge pile of old knitting patterns in a charity shop in Epping and bought the lot for the princely sum of £1! I've been collecting vintage patterns ever since (although I took a break during the "diving years"). Recently I have been concentrating on getting hold of as many back issues of Stitchraft as possible, mostly from the 1940s and 1950s.
I arrived in London to find these two back issues of Stitchcraft waiting for me on the doormat, June 1951 and May 1968. What a wonderful start to my trip! I had bought them on Ebay about a week before I left Boston hoping that they would arrive in time. Reading them is like ferreting through the contents of a time capsule. The 1951 issue, in particular, is a treasure trove of recent post-war British history. The cover shot was taken in a wool mill and more photos from the series accompany the patterns inside. The process of turning fleece into balls of wool is described with photos of the wool-mill at work.
Thanks to my jetlag, I have been staying up late most nights since I arrived and trolling Ebay for more back issues of Stitchcraft. I have at least 3 more in the post to me! Sometime soon I plan to sit down and catalog my collection and I'll post more pictures and maybe some patterns (copyright-permitting). Maybe one of these days I'll actually finish knitting one of the several vintage projects I have started and subsequently abandoned! Do any of you collect vintage patterns too? What are your favourite time periods? Hope you're all having a great week.